The Consumer Sentinel IP is patented technology, with proof of concept work completed, for consumer noninvasive blood glucose monitors. The self-monitoring blood glucose device and disposables market is currently in excess of $12B worldwide. For more information click here.
Refined Intellectual Property Applications

The Company is refining an electrochemistry-based automated blood glucose monitoring technology for use in hospital general ward populations. The rapidly growing global market for inpatient blood glucose monitoring technologies is approaching $5B worldwide. For more information click here.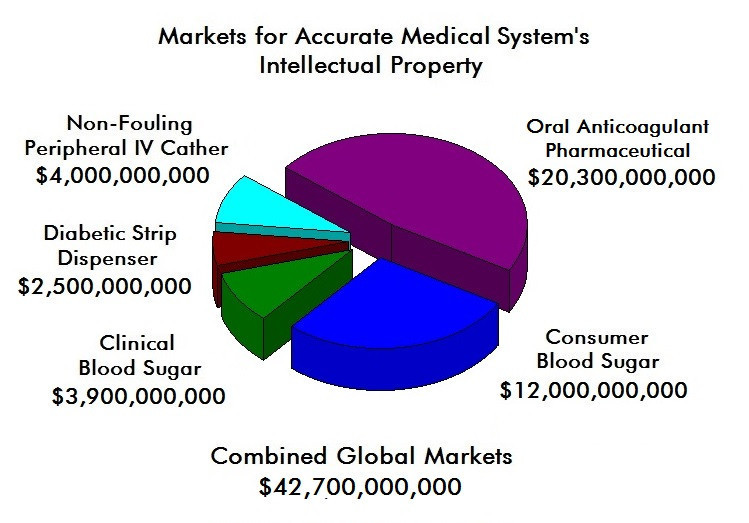 The technology and designs for improving biosensor technology for existing diabetic test strip market include human proof of concept studies demonstrating efficacy equal to, and moderately better than existing products and technology designs. The global diabetic test strip markets are currently valued at $10B with approximately another $2-3B for meters and ancillary products. For more information click here.
The strip dispenser technology has been advanced to functional prototype. The designs provide a dispenser that facilitates diabetic testing compliance. The market for user convenience devices is an emerging market that is valued in the many hundreds of millions of dollars and growing explosively. The identified market for this technology is valued at approximately $2.5B. For more information click here.
The Peripheral IV markets are approaching $4B, and are expected to continue growth rates above 6% through 2022. During their hospital stay 60%-90% of patients require peripheral intravenous catheter (PIVC) and, even in the most rigorously performed studies, the overall failure rate is between 35%-50%. For more information click here.
The global market for oral anticoagulants was $18.9B in 2016 and the market is expected to grow at a compounded annual rate of 7.6% between 2016 and 2021. Industry experts expect this market to be valued in excess of $27B by 2023. Blood clots in the bloodstream after surgery or traumatic injury is a common complication. For more information click here.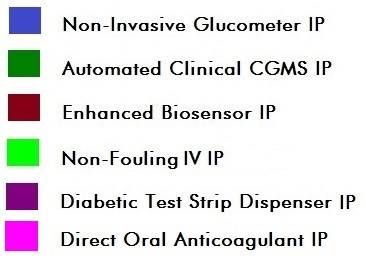 The image below provides an illustration of targeted licensing and royalty revenue expectations of the Company.